Automated Lubrication Systems
Automatic Lubrication System Types
The system can be classified into two different categories that can share a lot of the same components.
Oil systems
Grease systems
The most commonly used Automatic Lubrication System types are:
Single Line Parallel,
Dual Line Parallel.
Single Line Progressive.
Automatic lubrication systems are key aspects in most maintenance & reliability programs. These systems supply various lube points with metered amounts of grease or oil from a central location. The pump supplies the system with the chosen lubricant and this is generally fed from a reservoir that is easily accessible. The options are almost limitless and are application specific. These systems have the option to be monitored remotely with feedback and can be tied directly into your plant's PLC or existing SCADA type systems.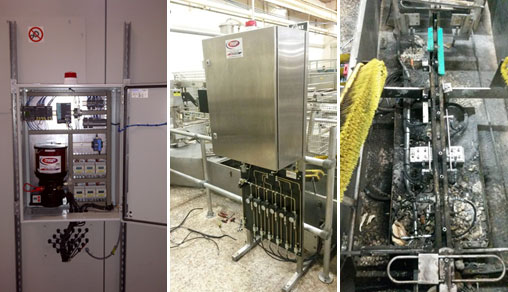 Pumps and Control Systems
DMS are in a fortunate position, as an independent specialist company, that we are able to offer a number of different types of pumps and control systems to be able to provide the client with the best technical option.
We have excellent access and relationships with a number of companies, especially with our sister business WMH Transmissions, who stock a range of automatic lubrication pumps and accessories.
Industrial Chain Lubrication
Another company DMS have a close working relationship with, is Rotalube UK.
Rotalube® is a unique range of patented industrial chain lubrication systems that involve applying accurate amounts of lubricant to roller chain and conveyor chain; it delivers lube to exactly the right part of the chain at exactly the right time, every time.
The performance of Rotalube® automated chain lubrication is not affected by speed fluctuations or indexing.
DMS have installed various systems including the Rotalube® systems on various industrial sectors, such as bakeries, cardboard corrugators and building materials / products.