The food industry is a complex, global network of diverse businesses that supplies most of the food consumed by the world's population. The term food industries cover's a series of industrial activities directed at the production, distribution, processing, conversion, preparation, preservation, transport, certification and packaging of food products.
Food Processing Manufacturers
The food industry today has become highly diversified, with manufacturing ranging from small, traditional, family-run activities that are highly labour-intensive, to large, capital-intensive and highly mechanized industrial processes. Many food industries depend almost entirely on local agriculture, produce, or fishing.
As this industry is so diverse, we at DMS have targeted various manufacturers in the UK and work in so many different sectors, associated with food processing. Specific ones where we have had a lot of success, are detailed below:-
Bakeries
Cereal production
Meat processing
Fish production
Canning plants
Breweries and bottling plants
Vegetable / salad production and packing
Freezer storage plants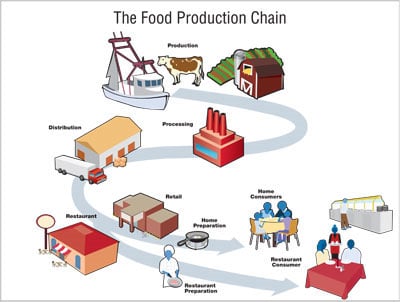 Operation Equipment Effectiveness
These facilities all have one thing in common and that is they are all driven by OEE (Operation Equipment Effectiveness). One of the key drivers behind a progressive OEE Strategy is to have a tailored condition based-monitoring program in place.
People believe that generally food production is only based upon small electro-mechanical assets. They couldn't be further from the truth, as there are a lot of large critical assets within the food production facilities from large mixers to large vertical and horizontal sterilisers!
Routine vibration & ultrasound surveys
Routine thermal imaging surveys
Lubrication surveys (best practice implementation)
Lubrication site work (greasing, stock control, lubricant inspections, oil level checks, etc)
Installation of fixed monitoring systems on our IoT platform, monitoring assets (extraction fans, compressors, etc)
Installation of hard-wired accelerometers onto assets with no safe access
Bearing failure reports
Drive Analysis reports