Machine Sentry Data Collectors & Platform
Machine Sentry MSM-1 Sensor
The Machine Sentry® MSM-1 sensor is a wireless intelligent tri-axial vibration and temperature sensor (patent pending) which connects via a Bluetooth® enabled hand held device to the Machine Sentry® software.
The sensor incorporates a 4 channel multiplexed data acquisition system which utilizes 3 internal accelerometers to give full 3-axis support. An additional sensor or fixed protection panel can be connected to the 4th channel.
The Machine Sentry® MSM-1 sensor can be paired to any Android™ tablet or smartphone using standard Bluetooth® communications. This provides safe and efficient data collection from up to 10m away. Assets which would normally be difficult to monitor using a traditional wired accelerometer can now be measured with ease (e.g. collection points behind guards, or large, moving assets such as gearboxes on agitators).
The integral rechargeable battery offers 60 hours of continuous operation between recharges allowing a full week's data collection between charges.
The sensor is available with ATEX or IECEx certification for use in Zone 1 or Zone 2 classified areas. The sensor has an inbuilt magnet which allows correct and repeatable orientation when performing multi-axis data collection.
Accelerometers installed can be 4-20mA or raw signal AC type.

Accelerometers can also be ATEX approved, side entry or top entry depending on the location and environment being installed.

New Blue Tooth accelerometers, that will operate with our "MachineGuard" Asset Minder IoT4.0 platform.

All systems supplied can communicate via various converters, such as Profinet and Profibus, and can be integrated into existing PLC / SCADA systems such as Siemens or Rockwell.

Vibration (velocity (mm/s) or acceleration ("g")

Temperature (oC)

Oil condition & oil temperature (Tan Delta sensors)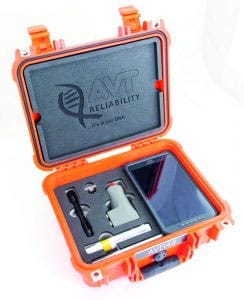 Machine Sentry Web Platform
The Machine Sentry web based platform has been developed over many years with the help and guidance from DMS. It has the ability to record and analyse every Condition Monitoring reading taken by our Engineers including vibration, oil samples, lubrication and thermal images.
Our Engineers also record asset information including photographs, ID plate information and oil/grease grades.
The information recorded on Machine Sentry forms the basis of our reports which are issued to customers following all on-site work.
As a valued DMS customer embarking on your Condiiton Monitoring journey with us, your own personal database will be set up with specific asset information. This will be used to record all readings that we take on site. Over time, patterns will emerge which we can analyse and make recommendations.
You can also choose whether to go one step further with the option of being able to view and make changes to your own database.