Quarrying is the process of removing rock, sand, gravel or other minerals from the ground in order to use them to produce materials for construction or other uses. So, a quarry is any such working on the surface of the earth where minerals are extracted. Quarries are also known by other names around the world: 'surface mine', 'pit', 'open pit' or 'opencast mine'.  Within the UK, the largest quantity of mineral extracted by quarrying is used for construction and known as "aggregates".
Materials Produced By Quarries
Quarries principally produce sand and gravel and crushed rock for construction and these materials are usually described as' aggregates'.
Gypsum
Salt
Potash
Coal
Chemical grade Limestoe
Common Clays
China Clay
Kaolin
Ball Clays
Silica sand
Thus, quarries are often associated with process plants the most important of which are ready-mixed-concrete plants, coating plants to produce asphalt and bituminous road-making materials, cement and lime burning kilns, concrete block and pipe works, brick works, pottery works and plaster/plasterboard factories.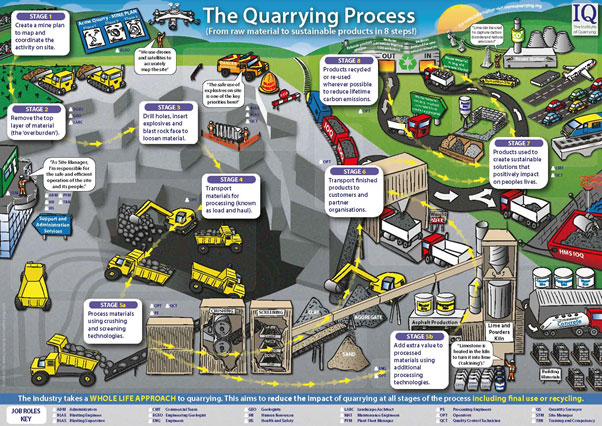 Condition Based Monitoring
As you can imagine the equipment used to mine / quarry minerals / aggregates are extremely diverse ranging from small dosing pumps through to large crushers! Most of these pieces of equipment can be a single point of failure, which creates major issues for the quarries.
Most importantly, the majority of equipment used in a quarry, mine or mineral processing plant either rotate or reciprocate, which means they are ideal for monitoring using varies techniques of condition based monitoring.
Over the last 20 years we have seen a significant growth in the amount of quarries & mineral processing plants who rely greatly on condition based monitoring as a key part of their engineering and maintenance strategy.
DMS have a significant presence in the quarrying & mineral processing sector, monitoring assets using our traditional route based methods alongside our sophisticated fixed continuous BlueTooth sensors / systems.
Types of Assets Monitored
Crushers (primary, secondary & jaw type)
Hammer Mills
Pulveriser / Pendulum mills
Ball Mills
Classifiers
Atritors
Vibratory screens
Box feeders
Belt conveyors
Screw conveyors
Mixers
Slurry pumps
Centrifugal & powder pumps
Shredders
Our experience gained over the last twenty years working closely with the UK's leading manufacturers has enabled us develop a real understanding on how these pieces equipment operate and what unique frequencies relate to what types of operational and fault frequencies.