Services | Lubrication Services
Our Engineers always follow established guidelines for sampling, and sample from the same point each time.
Oil analysis can be divided into three categories:
analysis of oil properties including those of the base oil and its additives
analysis of contaminants
analysis of wear debris from machinery
All oil sample analysis results are stored on our Machine Sentry web based platform and form the basis of a fully comprehensive report for the customer on completion.
At DMS we encourage regular surveys at fixed intervals to enable our customers to build up a history of each asset and help to predict when maintenance may be required.
Regular inspection of equipment and the evaluation of oil analysis results will provide valuable information about the health of the equipment and the oil.
By following the trends of the oil analysis data, users can monitor equipment condition and predict corrective action before equipment failure. The goal of oil analysis is to minimize equipment downtime, prevent unnecessary maintenance activities, and maintain equipment warranties.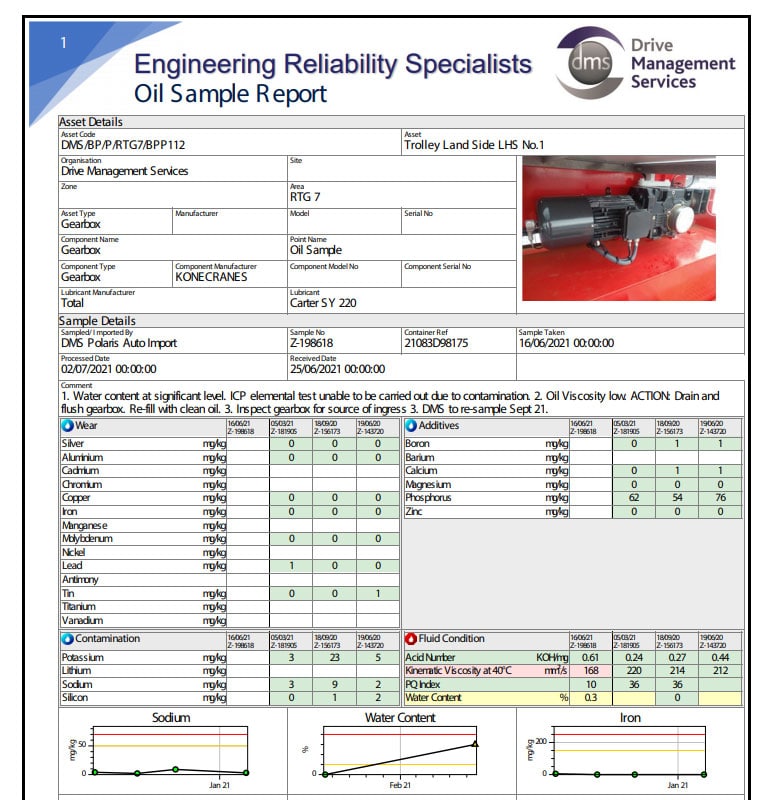 Routine Oil Sampling Program
All our Condition Monitoring services will begin with a site survey of all operational assets. Our DMS Engineers will visit site to record all assets which could benefit from a routine oil sampling program. This includes asset type, asset description and oil make/model/grade used. We will then use this information to recommend the frequency of oil samples to be taken from each asset.
Routine Oil Analysis Checks
Lubricant Condition:
A lubricant's condition can reveal whether the fluid is healthy and fit for further service or ready for a change.
Identification of Contaminants:
The increase of contaminants, such as dirt, water and machine wear, are the leading causes of machine degradation and failure. Increased contamination indicates it is time to take action in order to save the oil and avoid unnecessary machine wear.
Indication of Machine Wear:
Wear particles can be generated at an exponential rate in an unhealthy machine. The detection and analysis of these particles assist in making critical maintenance decisions. Machine failure due to worn out components can be avoided.
It is undeniable that knowing what is happening inside equipment and early problem detection is vital to predictive maintenance. Routine oil analysis will alert you to potential problems, save you time and money, and protect your equipment.
We hope that your oil analysis survey doesn't reveal any issues. However if it does, theres no need to worry. We can recommend and arrange any remedial work which should be carried out to ensure the long term health of your assets such as oil changes or further inspections.