Vibration Analysis Program saves Process Plant at Major UK Quarry site
Dust Suppression Fan Rebuild
Further investigation revealed that the bearings were seriously damaged and DMS were asked to undertake a complete fan strip down and rebuild. As part of this process, the DMS Engineers arranged to visit site the next morning for the plant to be stopped in a controlled manner. The assembly was then partly stripped down so that all the required bearings could be identified.
During this strip down process it was discovered that all v-belt pulleys, taper-lock bushes and seals also required immediate and urgent replacement as their extreme wear was contributing to the excessive vibration.
The unit was successfully reassembled and a list provided to Engineering parts supplier, Hayley Group, to source in preparation for the site work.
A planned visit was then scheduled and all the following items replaced:-
Motor pulley & taperlock bush
Fan pulley & taperlock bush
Complete set of v-belts
New pillow block ball bearings, v-ring and felt seals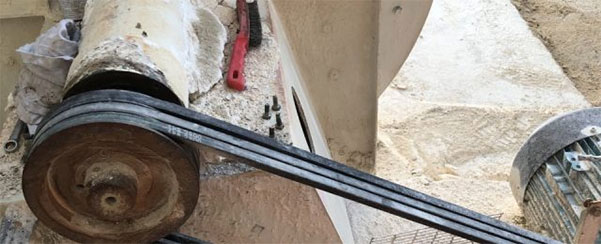 Reduced Vibration Readings
The DMS Engineers laser aligned all v-belt drives and tensioned with the v-belt gauge. The customer kindly provided some space in the local workshop to conduct this work using heat/torches in a controlled environment.
The following day DMS were back on site to re-monitor the fan in question. The vibration readings reduced dramatically and the delighted customer informed us that they have never heard this fan run so smoothly or quietly!
If this fan had been allowed to fail, the whole production plant would have ceased causing astronomical delivery issues to the end clients.
The work was undertaken in 10 hours on site with two men.
Call us for a Vibration Analysis program quotation on 0845 838 6710. A face to face visit to your chosen site can also be arranged to discuss requirements in more detail.